RECIPE: BAKSO
Posted on August 23 2021, By: Josh Roberts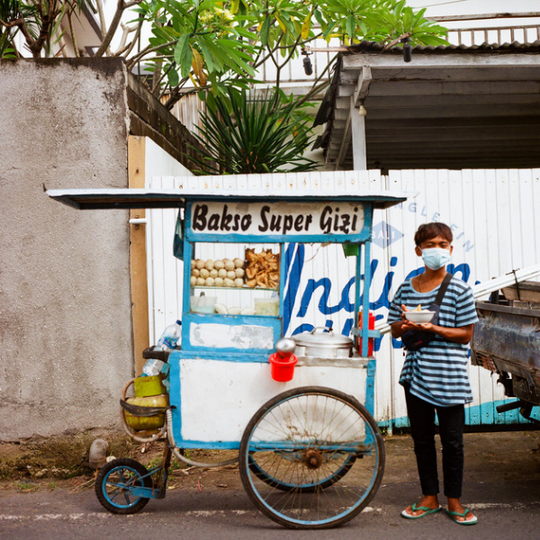 RECIPE: BAKSO
Meet the street food dish that powers the people of Bali (scroll down for recipe).
---
For the people of Bali, bakso - a meatball based broth dish - is less of food stuff, and more a way of life. Rooted in Chinese Indonesian traditions, it's a warm, hearty and nourishing street food loved by everyone from construction labourers to office workers and school children. Most commonly bakso is served from modified motorbikes, which jangle their way around the streets, gas bottles and ingredients precariously attached.  
A bakso vendor winds his way through the streets of Bali.
For the meatballs, combine 250g of minced chicken with two garlic cloves, 1.5 teaspoons of salt, half a teaspoon of ground white pepper and 100 grams of cornflour. Shape the mixture into small, golf ball sized meatballs and refrigerate for at least fifteen minutes to set.
Whilst the meatballs are in the fridge, begin preparing the broth. To 1.5 litres of light chicken stock add 4 spring onions (roughly chopped), 4 cloves of garlic (again, roughly chopped) and season to taste with salt and white pepper. Place this on medium heat and allow it to bubble away for a good thirty minutes, so that the stock becomes infused with the aromats.
Once the broth as taken on a deep flavor, add the chicken meatballs and allow to simmer for fifteen minutes (or until cooked through).
Whilst the meatballs are poaching, fill four soup bowls with some pre-cooked rice noodles, blanched pak choi and a few chopped spring onions. Next ladle the hot broth and meatballs into the bowls, top with some crispy shallots and eat (/slurp) immediately.