Free shipping on all orders | Order by 12pm for next day delivery
INTERVIEW: JAMES COCHRAN
Posted on August 24 2021, By: Josh Roberts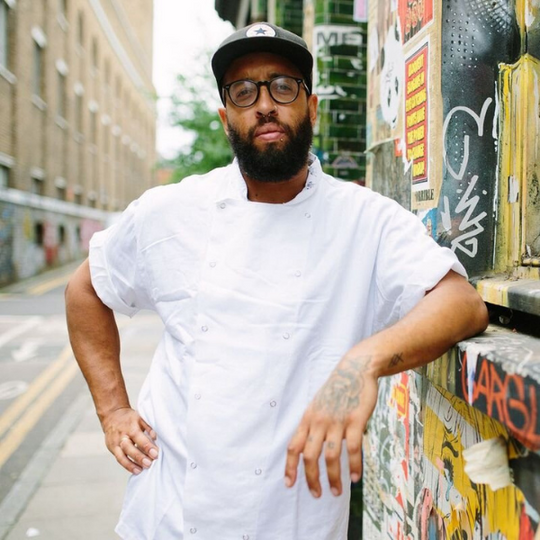 INTERVIEW: JAMES COCHRAN
After a tub-thumping performance on Great British Menu in 2018, the soulful Scottish Vincentian chef went on to open 12:51, a much-lauded restaurant that critics describe as 'touched by brilliance'. Here, he talks credit card debt, sustainability and his dream date with Imogen Lepere.
---
Katto (K): What are some of your fondest food memories from childhood? 
James Cochran (JC): My love of cooking stemmed from my mum, who was from St. Vincent. I grew up in Whitstable, Kent and my dad was Scottish, so she wanted me to understand my West Indian roots. She'd do really out there Sunday roasts, like jerk-spiced leg of lamb, boiled breadfruit mashed with suede and fried plantain. And we always cooked banana bread together in the summer holidays, that was a ritual.
K: What did you learn from your time working with Brett Graham at The Ledbury?
JC: Working in a Michelin-starred kitchen for nine years taught me how to maintain consistency at a high standard, which has been invaluable. The majority of the food I make today stems from techniques I learned at The Ledbury. One example is the way I cook venison. I don't use butter because this impacts the flavour. Instead, I seal it in a pan, cook it on a trivet, let it rest and then smoke it over hay and pine. 
K: What have been some of the biggest challenges of setting up your own restaurant and does it feel worth it?
JC: I was a little naive about how much it actually costs to set up a restaurant in London. We had some great investment, but 85% of it was swallowed by premiums and solicitor's fees. So we basically maxed out loads of credit cards – luckily winning Great British Menu in 2018 helped me pay that back very quickly. An investor has to believe in a young chef's vision, otherwise they'll try and water down your concept or steal your name, so having an authentic identity is key. Both my parents have passed away, and it's vital to me that I pay tribute to them both in my cooking. I wouldn't be able to do that working for someone else.
 K: What kind of culture do you want in your kitchen and how do you try and foster that?
JC: The Ledbury was an intense, competitive environment that wasn't always conducive to happiness. In my kitchen, I try and make everyone feel equal and have a laugh. We can't pay like your Ramsays or Athertons, but I want the team to feel integral to the restaurant, so I make sure everyone gets the chance to help develop dishes. 
K: What are your top tips for eating meat more sustainably?
JC: As a society, we've got into the habit of consuming way too much meat. You'll get so much more pleasure from a 55-day aged piece of beef once a week than you would from eating supermarket chicken every day. It's more important than ever to support your local fishmonger and butcher and it's easier than ever too, because so many have started offering home delivery during the pandemic. Becoming more open-minded about cuts is also crucial when it comes to limiting food waste. Give me a nice piece of lamb or venison neck, slow braised for eight hours, over a sirloin steak any day.
K: Which world cuisines do you look to for inspiration?
JC: The foods I most love to eat are Italian and Asian. My style of cooking is no bullshit – there's no edible flowers or unnecessary frills – but it's full of flavour and both those cuisines really pack a punch in that department. At 12:51, I brine lamb in soy sauce, fish sauce, mirin, ponzu, garlic and rosemary for two hours before barbequing it.
K: You often say the quality of the ingredients makes or breaks a meal. Who are your unsung food heroes? 
JC: It's so true and I have built up a team of amazing suppliers, many of whom do home delivery. Shaun at Henderson Seafoods is incredibly knowledgeable and very loyal. The Herwick lamb from Lake District Farmers can't be beaten. I use HG Walter for meat at both the restaurant and home and back Premier, who are based at New Convent Garden Market, for fruit and veg.
 K: Which chefs (alive or dead) would you invite to your dream dinner party and why? 
JC: Definitely Grant Alchatz, of Alinea in Chicago. He was one of America's most celebrated chefs when he was diagnosed with tongue cancer in his early thirties and lost his ability to taste but continues to create remarkable food. I'd love to hear some of Marco Pierre White's stories from back in the day, and I'd definitely invite Anthony Bourdain, because he seemed like a good guy and his knowledge of food continues to blow my mind.
K: It's date night. Where would you go to eat and drink around the UK?
JC: I would have to go home to Whitstable. I'd go to Wheelers Oyster Bar (the restaurant I worked in as a kitchen porter when I was a teenager) and order their crab and prawn tartlets and a shellfish platter, then head to the beach with a few bottles of Champagne to watch the sun go down. For something a little more low key, I'd go to my favourite cocktail bar, 200 in Peckham. From Mondays to Thursdays they do the best £5 negronis. 
K: What are your favourite ingredients and how do you use them?
JC: I try to be sustainable, so always have mackerel on my menu. The kitchen at 12:51 is quite small, so I usually cure it in salt, sugar and ponzu for consistency. I also love oysters from Whitstable. I like to transform them into rich seafood cream to serve with potato crisps or cook them in Whitstable Bay Pale Ale with cured beef, frozen and grated on top.