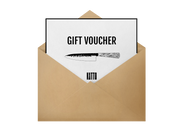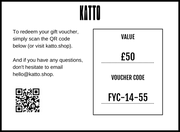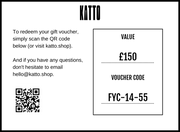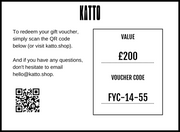 Gift Cards
Product Info
Sometimes the best gifts are the ones you get to choose yourself. And for that reason, we're delighted to offer a selection of gift cards which the lucky recipient can redeem against any Katto product.
WHAT'S INCLUDED
When you order a gift card we'll send you / the recipient a package which includes a beautifully designed gift card.  Plus, just in case, we'll also send you an email containing all the information you need. 
Please be sure to specify where you'd like the gift card sent to (plus any personal messages) at checkout.
HOW MUCH SHOULD I GIFT?
We offer three denominations of gift card:
£50 - ideal for the purchase of accessories such as sharpening stones, knife racks or linen aprons. 
£150 - perfect for someone looking to gift a single knife (with some change left over for a sharpening stone, depending on the knife they chose).
£200 - the one to choose if you're wanting to gift more than one knife.
FREE NEXT-DAY DELIVERY
All gift card packages are dispatched with next-day delivery. Order before 12pm for same-day dispatch.

FREE SHARPENING
Even the best knives need sharpening from time to time. This is why we offer all Katto customers a free knife sharpening service. Find out more here. 

FREE RETURNS
If for any reason you'd like to exchange or return your gift card, you can do so for free for up to 100 days. To do so, just email customers@katto.shop or call us using the number below.