4 REASONS YOU SHOULD SHARPEN YOUR KNIVES (& HOW TO DO IT)
Posted on May 30 2022, By: James Oakley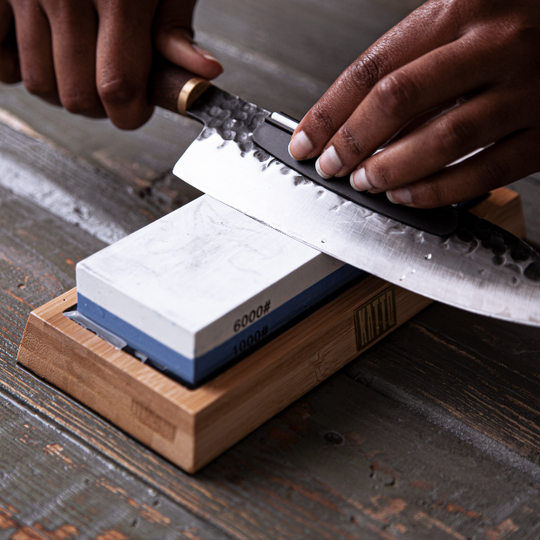 Why you should sharpen your knives, how it works and where to get your knives sharpened.
---
HOW DOES KNIFE SHARPENING WORK?
The sharpness of a knife depends on the quality and precision of the blade edge. Over time as a result of abrasion from the chopping board or food items, this edge is slowly eroded resulting in the knife becoming blunt. In other words, the knife edge goes from looking like a V to looking more like a U. This makes it harder for the blade to pierce and slice through foods. 
When we sharpen a knife, we erode the steel which creates the U shape creating a new, fine edge. You can achieve this using a variety of methods and tools including ceramic stones, metal honing rods and even sandpaper (although we don't recommend this). 
The frequency with which you should sharpen knives depends on a whole host of different factors including your chopping board material, how often you use the knife and even how you wash it. 
Although, having said that, we recommend giving your knife a quick honing every couple of weeks and more fundamental sharpening every few months (which is why we offer free knife sharpening to all Katto customers).
WHY SHOULD YOU SHARPEN KNIVES?
SHARPER KNIVES ARE MUCH EASIER TO USE
It seems an awful truism, but the primary reason for sharpening knives is to make them easier to use. Whether you're preparing tough root vegetables, fileting a fish or finely slicing herbs - everything is faster and easier with a sharp knife. 
There's also no point purchasing high-quality, expensive ingredients only to then ruin their beauty by hacking at them with a blunt knife. This is particularly true of fish and delicate meats; but also fine herbs which can easily be turned into a flavorless mush by a blunt knife.
SHARPER KNIVES ARE MUCH SAFER
One of the primary reasons that professional chefs keep their knives so sharp is because doing so is much safer. Sharp knives bite into ingredients and glide through them with accuracy, consistency and predictability. Whereas blunt knives glance and slide which can often result in kitchen accidents. You see this particularly with tough to chop ingredients such as squashes and pumpkins; but it also happens when slicing skinned vegetables like tomatoes. 
SHARPER KNIVES LAST LONGER
Provided you take care of them, even the more inexpensive kitchen knives can offer durability for a number of years. You will often find that maintaining the upkeep of your knives and sharpening them a few times a year can provide several years of dependability and pleasure in using them. Getting your knives sharpened by a professional who is knowledgeable with a variety of types of kitchen knives with the expertise needed can aid you in maintaining and preserving quality kitchen knives, leading to a long life for your culinary blades.
If you have invested in specialty kitchen knives or professional chef's knives, then taking these to a knife sharpening service can often be the best way to sharpen kitchen knives to ensure they are available for use at any time. It is inadvisable to try and sharpen professional knives yourself, for example on low-quality whetstones.
SHARPER KNIVES ARE MORE ENJOYABLE
As a knife company we are of course biased, but there really is nothing quite like the feeling of cooking with an ultra-sharp knife. You work faster, cleaner and more efficiently; and the pride you feel in producing food to the best of your ability really cannot be bettered. Like all the best things in life, keeping your knives sharp does require some time and effort; but it really is worth it.
WHERE CAN I SHARPEN KNIVES NEAR ME?
If you are unsure how to sharpen knives and are looking for a professional knife sharpening service, Katto Knives offers a free knife sharpening service for all our customers. Simply bring your Katto knife to one of the pop-up events found on the website, book an appointment slot and bring your Katto knives properly wrapped for safety.