Free shipping on all orders | Order by 12pm for next day delivery
MAKING FRESH RAVIOLI
Posted on August 25 2022, By: Josh Roberts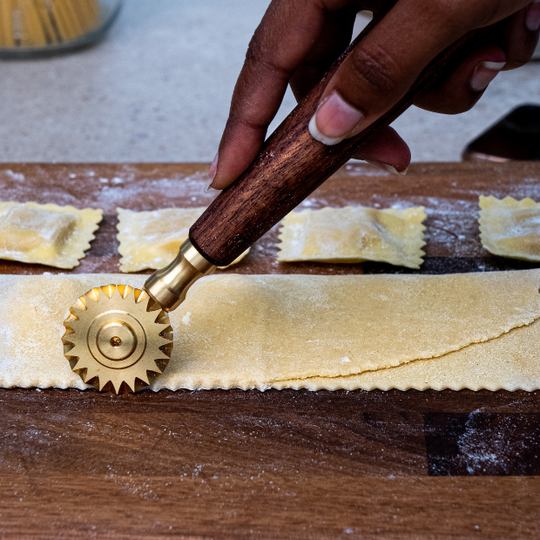 Making fresh pasta at home can be a daunting thought. But if you have flour and eggs in your kitchen, you are already halfway there. Add some cheese and vegetables to the mix, and you could have yourself a dish of fresh tortellini or even ravioli.
In 1930, a pasta fanatic like us, named Otello Marcato produced the first-ever pasta rolling machine. Handmade in the workshop behind his house, he sold this wonder product around his neighbourhood by cycling around on his bike.
Like Marcato himself, our craftsmen here at Katto hand-make all our kitchenware, including our Ravioli cutter.
WHY BOTHER MAKING FRESH PASTA?
Pasta is a meal we consider a comfort, and for many, it offers a chance for creativity. With its versatile nature, pasta can take many shapes and forms, all of which sparks a new and innovative way to enjoy this heartwarming dish.
Creating homemade pasta is truly a labour of love. The dough itself will need plenty of attention as you will have to knead it, allow for it to rest, and then, later on, roll it into long silky sheets. Next comes, the assembling of layers, filling it, and of course, sealing the pasta, and cutting it, all before serving.
Whilst freshly-made pasta dishes such as these seem cumbersome, we can guarantee that all of these steps become much more simple once you've added a professional tool such as a ravioli cutter to your kitchen arsenal.
USING A RAVIOLI WHEEL
Home chefs and professionals alike, there is nothing quite like having a kitchen full of high-quality and efficient tools. Here at Katto, we believe that cooking is about much more than nourishment. It is a way to express character, individuality, and personality. We also feel that easier isn't always better, and whilst our tools have been created with the purpose of making your cooking journey more peaceful, we understand the best things in life require effort.
The primary reason why chefs opt for using a skillful tool such as a ravioli maker or cutter is that they raise the bar when it comes to quality control. With a solid brass rolling wheel and hand-carved black walnut handle, our ravioli cutter is the perfect way to create clean, beautiful edged stuffed pasta.
As well as this, the tiny wells in each cutter mean that every ravioli receives almost the same quantity of filling. Not to mention, a ravioli cutter also allows you to create more pasta from your dough, and even improves the pasta-to-filling ratio. This is ideal for our at-home chefs who are looking to master the skill of pasta creation or our professionals who may need to make multiple ravioli dishes.

OUR PASTA COLLECTION
From penne to puttanesca, we appreciate all pasta. We created our range of traditional Italian pasta tools to help all our chefs be creative when it comes to making their next dish.
Our Pasta Board is the answer when it comes to making your own gnocchi or cavatelli. Like all our cooking tools, our Pasta Boards are handmade with the soothing idea of handcrafting these professional, and tasty pasta dishes.
Your journey through hand-making pasta wouldn't be complete without a rolling pin. At 80cm long, our large rolling pin is the perfect tool for hand-rolling your pasta sheets. Not to mention, this tool is hardwearing, as it's been made using FSC Certified black walnut.