HOW TO USE A PASTRY & DOUGH SCRAPER
Posted on November 14 2022, By: James Oakley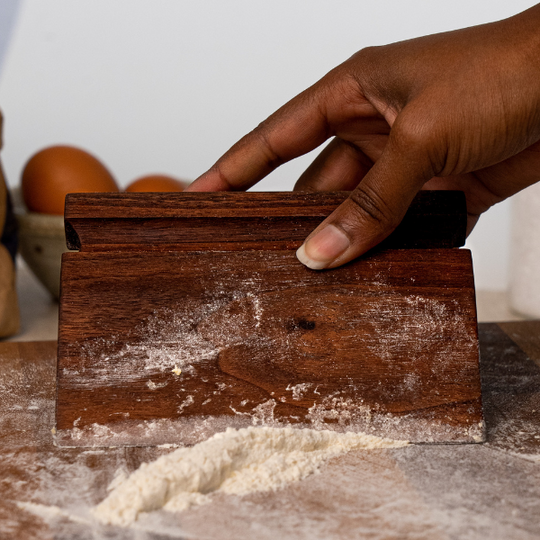 HOW TO USE A PASTRY & DOUGH SCRAPER
Equipping your kitchen with the right tools can make a world of difference when preparing your ingredients. Indeed, some may make small tasks easier while also leaving your cooking surfaces clean for the next stages of the cooking process. Nowhere is this more true than with pastry and dough scrapers. Not only do they make the process of baking or making pasta quicker; but they also make it much, much tidier. Here's how to use a dough scraper to make your next meal hassle-free. 
USING A DOUGH SCRAPER FOR MAKING PASTA
Sometimes referred to as a bench knife, a dough scraper is a rectangular piece of wood or steel with a handle along one edge. Dough scrapers are typically used to divide, portion, scoop, and move chunks of dough from one area to another.
When making pasta, a scraper will immediately come in handy when mixing the dough together, making the creation process much easier. On a surface, you can scrape the surrounding flour into the dough mix with the scraper's flat side without causing a mess. 
You can also put the straight edge of the knife to work by using it to effectively divide up portions of pasta horizontally and vertically to their desired length. Particularly well suited to homemade linguini and lasagna, using this tool makes the typically long process of making pasta that much faster.
HOW TO USE A DOUGH SCRAPER FOR BAKING
After picking up a dough scraper, you may find it becomes one of your kitchen's most handy accessories. As well as being useful for mixing ingredients into your dough, the dough scraper is also great for emptying out a big bowl for dough remnants. The fine edge is designed to be able to pick up all traces of the mixture on a surface. If you need some help kneading your dough, and don't want to cake your hands in batter, then you can use the edge of the scraper to fold the dough in on itself. If you pour your mix into a baking tray, you can also use the flat side to level out the batter. 
When making pastries, the scraper's side again serves a new function when it comes to portioning, perfectly cutting or dividing the dough. Finally, once you're finished baking, you can use the scraper to wipe down surfaces of excess flour to leave your kitchen ready for the next time you cook. 
WHAT MAKES A GOOD DOUGH SCRAPER?
Opting for a larger scraper with more surface area makes it more effective at cleaning surfaces and makes it easier to cut bigger pieces of dough or pasta. The bladed edge of a scraper should be relatively dull, but sharp enough to easily cut through a dough or pastry. Having a well-shaped handle on the top of the scraper will also make it much easier to handle.  
Our exquisitely crafted dough scraper is produced from American Black Walnut that has received FSC certification. Its uses are not just limited to pasta and baking and its unique shape and design can be used creatively in the preparation of any meal.