Free shipping on all orders | Order by 12pm for next day delivery
WHAT IS A NAKIRI KNIFE AND WHY DO YOU NEED ONE?
Posted on December 16 2022, By: Josh Roberts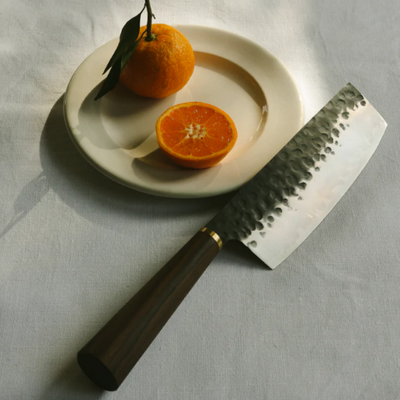 Whether you are an at-home cook or a professional chef, having an arsenal of good-quality tools is a must. Knives are of the utmost importance, and an essential when it comes to ingredient prep.
Following the success of our Limited Edition (subscriber only) Nakiri in October, we've decided to make these beautiful knives a permanent feature of the Katto family. In this article, we will be breaking down everything you need to know about this latest addition and what it can add to your kitchen. 
---
WHAT IS A NAKIRI KNIFE?
A Nakiri knife is a classic Japanese-style knife and it can be identified by having a straight, symmetrical edge. Due to this feature, the blade encourages a very specific style of cutting which can be described as an up-and-down motion, unlike most Chef Knives which typically utilise a rocking motion.

Our Nakiri knife has a 3mm thick blade which makes it extremely robust, making it a hard-wearing and essential piece of kitchen equipment. Also, each of our 7" Nakiri knives are made using Japanese AUS-10 steel blades and your choice of hand-carved handle in either walnut, beech, or rosewood.
WHAT DO YOU NEED A NAKIRI KNIFE FOR? 
A Nakiri knife is a kitchen essential for any professional or home chef. With its straight blade in comparison to other knives, it's ideal for efficient food prep. If you are someone who uses a lot of vegetables in your meals, then we would highly recommend getting your hands on a Nakiri knife. For preparation of celery stalks, onions, eggplants, carrots, bok choy or any greens you have laying around, a Nakiri knife should be your top choice.  With its symmetrical edge, you can more effectively chop, slice and dice all your favorite vegetables. 
NAKIRI VS SANTOKU
If you are shopping around for a Japanese knife you may have come across both the Nakiri and the Santoku, but what's the difference? Primary, both knives have different blades and therefore, should be used for differing tasks. When you put your Nakiri on a cutting board, you will notice it sits flat whereas the Santoku will be slightly curved. As mentioned above, a Nakiri knife promotes a more up-and-down motion whilst chopping, whilst a Santoku knife allows for a rocking action. 
It also depends what ingredients you are trying to prepare. If meat is on the menu, we recommend a Santoku over a Nakiri. Whilst the thinner blade offers more control to the user when it comes to the knife's movements, the Nakiri won't be efficient for cutting meat. Reserve Nakiri for vegetables as the squared-off tip will work wonders.