Free shipping on all orders | Order by 12pm for next day delivery
RECIPE: BEEF, SORREL & COFFEE MAYONNAISE BY NAUGHTY PIGLETS
Posted on September 03 2021, By: Josh Roberts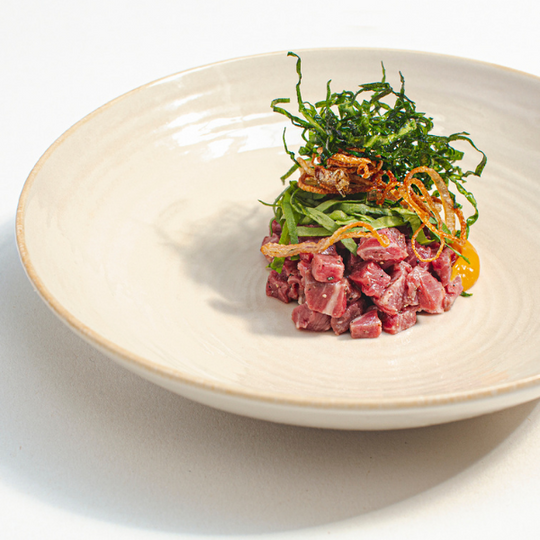 RECIPE: BEEF, SORREL & COFFEE MAYONNAISE BY NAUGHTY PIGLETS
This is a really special dish made by Joe from Brixton based restaurant, Naughty Piglets. Meltingly soft beef, a piquant, coffee-laced mayonnaise and the fresh zing of sorrel make this a perfect summer starter.
To make this recipe at home, you will need:
*The Beef*
Around 100g Steak fillet
Lemon juice
Extra virgin olive oil
Salt and pepper
*Coffee Mayonnaise*
1 Egg yolk
200ml neutral oil
1tbsp Freeze dried coffee
1tbsp English mustard
1tbsp Sriracha
1tbsp White balsamic vinegar
Salt and sugar.
*Garnishes*
1 Bunch sorrel
1 Shallot
Spring greens
Oil for frying.
If you try it, let us know what you think and share with us how you get on with making it home. You should also be sure to see how to get a dinner on us as well.