RECIPE: CHERRY CLAFOUTIS
Posted on August 24 2021, By: Josh Roberts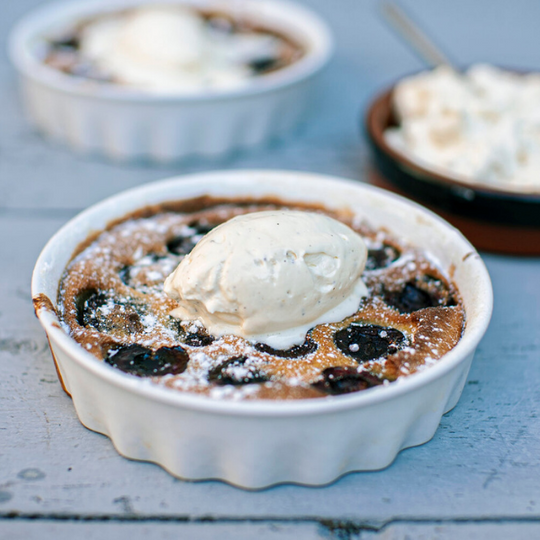 RECIPE: CHERRY CLAFOUTIS
Chef Brad Trent's quick, easy and totally delicious cherry clafoutis is the perfect way to end a summer meal. Be sure to use the ripest cherries you can get hold of and don't skimp on the cream...
---
CLAFOUTIS INGREDIENTS
- 60g Ripe cherries
- 2 Eggs
- 30g Plain flour
- 1/4tsp Baking power
- 150ml Milk
- 1tsp Vanilla paste
- 2tbsp Ground almonds
---
CREAM INGREDIENTS
- 200ml Double cream
- 20g Caster sugar
- ½ tsp Vanilla paste
- 1tsp Freshly ground black pepper
---
METHOD
Slice the cherries in half and remove the stone. Brush two 15cm oven proof dishes with melted butter and dust with sugar. Then cover the bottom with cherries. Mix all of the batter ingredients together using a stick blender to ensure there are no lumps. Sprinkle some ground almonds over the cherries and then pour over the batter, leaving a 2cm gap at the top.
Bake for 30-35 minutes at 180C/350F/Gas 4, until golden brown. Place the cream, sugar, vanilla and black pepper into a bowl and using a whisk, beat the cream to soft peaks. To serve, sprinkle a little icing sugar on top of each of the clafoutis and a good dollop of the cream.