RECIPE: LAMB, FLATBREADS & SALSA
Posted on August 24 2021, By: Josh Roberts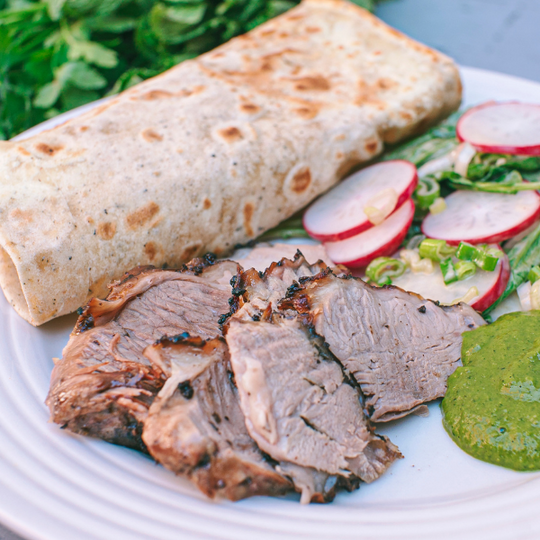 RECIPE: LAMB, FLATBREADS & SALSA
Chef Brad Trent's easy-yet-delicious recipe for slow cooked, meltingly soft lamb served with homemade flatbreads and a speedy wild garlic salsa.
---
SLOW COOKED LAMB
Ingredients
- Leg of lamb (around 1kg)
- 2 Cloves of garlic
- ½ Tin of anchovies
- 50g Black olives
- 30ml Olive oil
- 1 Sprig of rosemary
Method
Blitz everything (apart from the leg of lamb!) in a food processor to form a paste. Rub this all over the lamb and marinade for at least an hour. When you're ready to cook, place the lamb roasting and add one cup of water. Cover the tin tightly with two layers of foil and roast at 180ºC for 2 hours.
---
FLATBREADS
Ingredients
- 400g Plain flour
- 200ml Water
- 15ml Olive oil
- Pinch of salt
- Pinch of dried mint
Method
In a large mixing bowl combine all the dry ingredients and make a small well in the centre. Pour the water and olive oil into the well. Using your fingertips bring this together to form a dough. Tip the dough onto a floured work surface and knead for ten minutes until smooth. Set aside in a warm place for 30 minutes in a lightly oiled bowl, covered with clingfilm. Once rested, split the dough into 8 pieces and roll out to ½cm thick. Cook in a non-stick pan over a high heat until they puff up and develop some light charring.
---
WILD GARLIC SALSA
Ingredients
-1 Bunch of parsley (50g)
- 1 Bunch mint (50g)
- 1 Bunch wild garlic (50g)
- 1 Heaped tbsp capers
- 1 Heaped tbsp cornichons
- 1½ tsp Dijon mustard
- 25ml Olive oil
- 25ml Red whine vinegar
- ½ Tin anchovies
Method
Add all the ingredients to a food processor and blitz until you have a smooth green sauce. Season to taste and add more olive or vinegar if necessary.
---
RADISH SALAD
Ingredients
- 2 spring onions (thinly sliced)
- 1 large bunch of radishes with the green tops - thinly sliced
- For the dressing
- 3 tbsp Olive oil
- 1 tbsp red wine vinegar
- 1//2 tsp Dijon mustard
- A good pinch of salt + pepper + sugar
Method
Wash the radishes thoroughly then cut off the green tops and add to a bowl. Thinly slice the radish and spring onions and add those to the bowl. Mix all the ingredients for the vinaigrette and season to taste. Dress your salad shortly before you plan to serve.