Free shipping on all orders | Order by 12pm for next day delivery
RECIPE: SCALLOP CRUDO
Posted on August 24 2021, By: Josh Roberts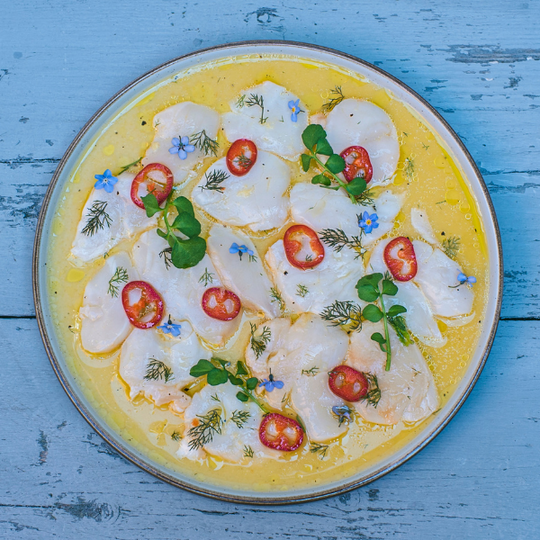 RECIPE: SCALLOP CRUDO
Chef Brad Trent offers-up a fresh, vibrant scallop crudo. The perfect way to eat scallops this summer.
---
INGREDIENTS
- 4 large Scallops (~240 grams)
- Juice of 2 oranges
- Juice of 1 lemon
- ½ tbsp sea salt
- 1 thumb sized piece of ginger grated
- 1 red chilli - thinly sliced
- Black pepper
- a small handful of mint leaves
- a small handful of fennel leaves
- 2 tbsp olive oil
METHOD
Begin by shelling the scallops and removing the row and connective muscle. Using a sharp knife, thinly slice the scallops and put to one side. In a mixing bowl combine all the other ingredients, mix, taste and season. Lay the sliced scallops on a plate with plenty of room between them and spoon over most of the marinade, reserving some for dressing later. Cover the plate with clingfilm and place in the fridge for two hours.
TO SERVE
Remove the scallops from the fridge 10 minutes before eating, spoon over the remaining marinade and garnish with fennel fronds, some sliced chilli or edible flowers.