Free shipping on all orders | Order by 12pm for next day delivery
WHAT IS THE CORRECT ANGLE TO SHARPEN JAPANESE KNIVES?
Posted on September 14 2022, By: James Oakley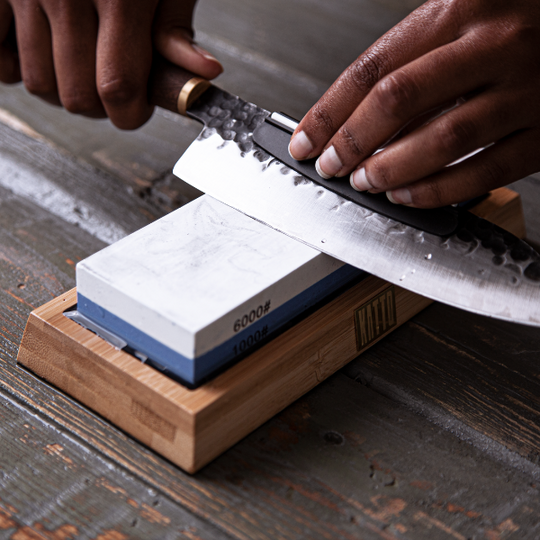 For all chefs, having a set of ultra sharp knives is a prerequisite for cooking, as is keeping those tools well looked after. In this article, we will be looking at the correct angle that traditional Japanese knives should be sharpened at, as well as all the benefits that come with doing so.
WHY BOTHER KEEPING KNIVES SHARP?
In a professional kitchen, having a sharp knife is a necessity. Whether you are a commercial chef, or home cook, ensuring that all your equipment is of the highest quality can make or break your overall preparation experience.


Enjoying the process of cooking should be just as important as eating your creations - and having a blunt knife can ruin that. A blade that is not sharp can make chopping, slicing, and mincing all the more cumbersome, and frankly, less enjoyable. Here at Katto, we believe that cooking should be an outlet. A space to be creative, experiment, and slow down from the busy chaos that is life. Having a sharp knife allows you to do this with ease.

General health and safety is another reason to keep your knives sharp. With a blunt blade, you may find yourself having to apply more pressure than necessary - particularly when it comes to larger, and tougher foods. To avoid a slip, we recommend keeping your knives as sharp as possible. This will allow you to glide through your food preparation process.
WHAT IS THE BEST WAY TO SHARPEN KNIVES?
If you are looking to invest in a complete set of handmade knives, then keeping them sharp is vital. Sharpening stones are unquestionably the best way to sharpen knives at home, and with our double-sided combination stones, it couldn't be easier. Upon purchasing one of our sharpening stones, you will notice that each one features two sharpening surfaces. One is a fast cutting 1000 grit and the other is a finer 6000 grit which gives an amazing, silky polish.

Not only are sharpening stones the most effective way to sharpen your knives but also, they're the easiest. Based on the feedback we have received from our customers, your sharpening stones orders will now come with an ultra-grip silicone rubber base. This allows for a safer and more accurate sharpening.


What Is The Correct Angle For Sharpening Your Japanese Knife
After choosing a sharpening stone, the next step will be finding the correct angle for sharpening the knife. In each and every order of our sharpening stones, we include an angle guide to make sure you sharpen at the exact right angle; plus a QR code allowing you to watch a free sharpening masterclass.
WHAT IS THE CORRECT ANGLE?
We recommend sharpening your Japanese knife on a 10-15 degree angle on one single side. As Japanese knives are typically double bevel, it means that the blade will need to be sharpened like this on the other side as well. Or, you can bring it back to our team, and we can sharpen it for you. With every purchase of one of our knives, we offer free sharpening.